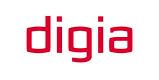 Digia recently launched its @Web browser for S60 5th Edition mobile handsets. This (obviously) includes the Samsung i8910 Omnia HD along with other devices such as the Nokia 5800 and Nokia N97.
The i8910 HD is a wonderful handset but the browsing experience is one area that hasn't been up to par in my opinion. The standard browser feels sluggish with pages taking a long time to render. Also, my normal mobile browser of choice, Opera, crashes often due to Java issues.
Digia's @Web browser is said to be "fully finger touch controllable", including full finger touch UI. It also includes direct page control with finger, multiple browser windows, url auto-complete and automatic full screen browsing.
It's worth noting though that it uses the WebKit engine built into the S60 handset. What this means is that it uses the same rendering engine as the standard browser but simply adds an UI layer on top. Therefore, you still won't get kinetic scrolling on your i8910. The S60 5th Edition version is currently in beta. For those wanting to give it a try, it is available to download here.
I haven't tested it myself yet, but have heard that it can be buggy. Also, as it relies on the standard browser, some reports say that is slower. Have you tried it? Let us know your thoughts in the comments below.