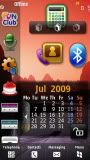 Phone widgets are becoming ever more popular on handsets. Samsung is encouraging widget support for the i8910 Omnia HD handset through a competition that we've discussed previously. The great thing about it, is that anyone can enter.
Whilst some of you may wonder how on earth you go about creating one, All About Symbian has created quite a handy guide. It covers the simplest form of a widget, the shortcut. You can use one as shortcut to your favourite web site or online service (like Gravity of Profimail). I haven't tried it myself yet (I'm still working myself around the phone), but would love to hear if any of you have got this working!
Update: Enterprising forum member warpfive has created a widget for this website. Click here for more details!